详细介绍
Ceramic Anti-Spatter Spray
METAWELD CERMAS

welding consumables, equipment and fixtures and fittings from spatter problems.Ceramic
prevention spray-coating, designed to extend the life of contact tips and shrouds in
industrial semi-automated and robotic MIG/MAG welding applications, including heavy
equipment fabrication and vehicle production.
and increases productivity, reducing downtime by minimising tip and shroud changes.
as long as uncoated shrouds before spatter build-up adversely affects welding performance.
In many applications, only a sinlge application of Ceramic Anti-Spatter Spray METAWELD CERMAS is required per shift, which removes the needs for reaming stations and tip-dip.
The spray can also be applied to jigs, fixtures and power cables to protect them from
coating providing exceptional protection of welding equipment and welded parts from damage
demanding requirements in the professional welding environment.
焊接陶瓷防溅剂METAWELD CERMAS是快干型焊接防溅剂,能够持久提供一层陶瓷膜,保护不受焊接设备和焊件
Ceramic Anti-Spatter Spray
METAWELD CERMAS
lasts 8 consecutives hours welding working
(1 working day/shift), without any further adds of product.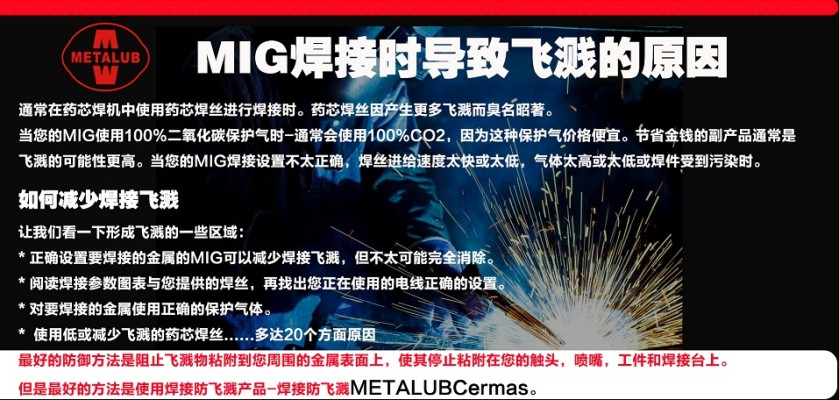 For your MIG/MAG welding manual, automatic and robotic applications
Improve productivity and save time
The welding spatters do not stick on nozzles and avoid any interruption on your process
Perfect welding due to better shielding gas flow with clean welding torch nozzles
Thanks to Ceramic Anti-Spatter Spray METAWELD CERMAS, your nozzles will
last longer(until 5 times more)
spatters.The intensive cleaning will not be necessary,AND Only remove the
welding spatters with a soft brush.
使用METAWELD CERMAS保护焊嘴,焊接表面和夹具,无需额外清洁,只需软刷就可除去焊接飞溅渣.